Secrets of the Most Confident, Persuasive and Successful Speakers
Secrets of the Most Confident, Successful & Persuasive Speakers
Learn how to get results whenever you speak – always!
with Owen Fitzpatrick & Poll Moussoulides
Two Day Course with Two Specialist Trainers

Wed. 13th & Thurs. 14th May
Dublin, Ireland
Two Day Course Fee – €874.
Only 0 Places Left
Sorry. This course is now full
Returns in 2019 
This course previously sold out very quickly. Please book early. 
From Ireland's leading Voice Coach and one of Europe's most sought after Personal Performance Specialists, learn proven techniques that ensure your message has impact.
From Psychologist, TV Presenter, Author and one of the world's most respected Neuro Linguistic experts, learn how to structure your message and position yourself to others in the most persuasive and beneficial way.
Owen Fitzpatrick & Poll Moussoulides


Two world class Trainers who have helped thousands of people become comfortable, confident and charismatic in their abilities to speak in public. Together they make a potent force that accelerates learning and drives skills to the highest possible level. With only 12 people accepted onto this two day course, this is a unique opportunity to work with both Owen & Poll together in Ireland and receive personal individual feedback that will quite literally turbo-charge your experience of creating and delivering meaningful messages.

Dump all those public speaking myths from the 1970's, and bring yourself right up to date with how contemporary audiences listen and how you can guarantee their undivided attention.
This is not a dated and worn out Presentation Skills course where we point cameras at you and tell you where to put your hands! Those kinds of course have been around for decades and not only patronise you, but also patronise your audience.  Times have changed.  Your clients, colleagues and customers are more sophisticated now and deserve better.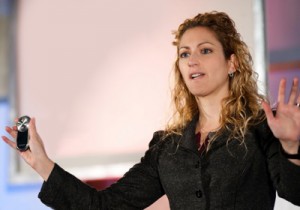 In two days you will learn the most relevant techniques from the worlds of Emotional Intelligence, Negotiation, Psychology of Persuasion & High Performance, and how to incorporate them into your Speaking opportunities.  
This dynamic and highly effective course is a must for all voice users. As the only course of its kind in Ireland, participants are inspired to actively change their vocal and physical habits, enhance their beliefs and attitudes, and feel more confident about how others perceive them. An interactive, challenging and enjoyable two days, with immediate results.
This 2 day format allows you to learn the skills in the first day, and demonstrate to yourself that you have mastered them during the second day.
"What a fantastic training program. You have made a huge difference and I know it will have an impact for years to come. As a professional speaker, especially with the legacy that my father has created, it is very difficult for me to get honest feedback that helps me to grow in both confidence and effectiveness. Your coaching has inspired me to step out of my comfort zone and strive to become the best speaker that I can be. For anyone who wishes to raise their speaking and performance skills to the highest levels, I strongly recommend Voice Matters and Poll Moussoulides." Tom Ziglar, CEO Ziglar Corporation

"Owen's style of work is engaging, full of enthusiasm and passionate. His ability to fully connect with the participants has been a key success factor, resulting in plans to repeat this exciting project twice more. His ability to motivate, illuminate and activate the participants to examine and change their way of being is outstanding." Claire Murphy, CR Programmes Manager, Pfizer

"Many thanks for a superb course, it was thoroughly enjoyable and I learnt so much. I have seldom met anyone who is able to impart knowledge and skills in the way that Poll did. I went from being uncertain about public speaking to now loving to learn and do more. This in itself is the highest compliment I can pay you." John Roche, Group MD, Eurotek, Dublin Ireland.
Voice Matters has a singular objective; to help individuals and groups get results whenever they speak.  Our wide range of courses ensure that:
Sales Managers or Sales Teams successfully engage with customers and achieve increased profits.
Managing Directors or Management Teams successfully communicate a vision or ethos to inspire and motivate their team or workforce.
Business Owners lead from the front and become effective and passionate advocates for their product.
Project Managers create and deliver presentations that command attention and are guaranteed to keep listeners involved and active.
Coaches, Consultants & Trainers successfully develop their skills to lead sessions, motivate clients and build winning relationships.
Finance and Technical Executives present complex data in a way that is accessible, impactful and never boring.
All organisations engage verbally, internally and externally, and they all share one fundamental reality; the communication of your own, or your company's ability to provide a reliable, trustworthy and efficient service is paramount for success.
"Simply, the best communications training I have attended! No waffle, no nonsense theories from books, just good, practical and effective advice. My organisation is now running more smoothly, my teams are happier and our presentation success rate has doubled – and all because I have become a better communicator and can lead from the front. Thank you Poll." John Baker, CEO in the Pharmaceutical Industry

"I recommend that when ever you get a chance to train with Owen Fitzpatrick, you do so. We have written books together and seen clients together, and I guarantee you will learn a lot." Dr. Richard Bandler, Co-Creator of NLP

"For over a decade Poll Moussoulides has been a most trusted adviser. He very quickly understood my leadership style and gave me the tools to confidently deliver key messages with clarity, purpose and strength. His ability to cut through detail and identify the core messages that move people towards change is exceptional. In times when the 'Voice' of Leadership must be at it's best, I have found his calm, insightful and inspirational coaching to be invaluable." Geraldine Ruane, Chief Executive, Ordnance Survey Ireland
Course Benefits
Upon completion of this course you will:
Understand how others hear your voice.
Command attention from your listener, and influence their perception of your message.
Identify the dynamics of your voice, and be more effective in your vocal delivery.
Learn to optimise your vocal strengths, and to enhance weaker characteristics.
Unite body, voice and speech to create 'total' communication.
Uncover the steps of achieving confidence in your performance easily and consistantly
Master the Language of Influence and learn the Hidden Power of Linguistic Persuasion.
Discover the science behind Persuasion and understand the 7 pillars of a persuasive person.
Explore the Psychology of the Audience and become more strategic in how you engage them.
Find out the keys to changing attitudes and always be confident in your abilities.
Allow the passion of your subject matter to be vocally clear, and ensure the intention of your words is being received by the listener.
Learn a schedule of rehearsal to reach peak vocal performance when you need it.
Establish a self-monitoring check-list, and learn to self-evaluate as you speak.
Implement techniques to effectively warm up your voice, and dramatically improve your tone and clarity.
Learn about correct body care, breath and relaxation.
Promote a healthier use of your voice and avoid sore throats, neck and back aches.
Take the first steps to becoming a great story teller using the surefire techniques of movie storylines.
Create powerful structures for your presentations & speeches that get amazing results.
Avoid the 5 biggest mistakes that nearly every speaker falls into when making presentations.

Who should attend?
All those whose voice represents themselves or their organisation. For example:
Senior Management and Middle Management, who wish to optimise their leadership skills by more persuasively communicating ideas and policies at significant daily or annual events.
Newly appointed in-house Trainers or existing Supervisors, who must ensure healthy and continuous vocal excellence to lead from the front.
P.R. Officers and Company Spokespersons who wish to increase the potency of their words.
Sales Teams who wish to raise the effectiveness of their presentations, and increase profits.
Business Owners who should be more productive with their customer interaction.
Consultants & Coaches whose communication skills are vital to the success of their business.
This inspirational two day course will transform your experience of speaking. It not only provides you with the knowledge, it also builds confidence, attitude and skills so that you can practise your new found skills during the day, and quickly apply them as soon as you return to the real world.
"Poll, for a rather long time afterwards the talk was about your session and how enjoyable and enlightening it was. Our organisation is in the middle of huge change and is trying to keep up with increasing public demands. Your insights were right on message and it was hugely important for all of us. The techniques are already paying dividends, both in dealing more effectively with our public and in building better communications within our dispersed office. I really thank you again for putting in so much work in preparing for the day." Melanie Pine, Director, Equality Tribunal of Ireland
In just two days you will discover the secrets of the world's best communicators. Radio and TV Presenters, Newsreaders, Actors, Singers, Politicians, Olympic Athletes, Chief Executives, Sales Teams and Motivational Speakers have all employed Poll Moussoulides and Owen Fitzpatrick to bring their Delivery Skills to the very highest levels.
This course is only for those who want to learn from the experts – the choice of professionals. There are no re-packaged theories taken from books here. You will be shown what actually works, with the emphasis firmly on results. Both trainers will be working with you continuously throughout the 2 day course, and at times the group will be split and you will receive personalised individual coaching. That is why the group is small and the course can only be limited to 10 participants.
"As a stand up comedian I see lots of different types of performers – those that are naturally very funny and those that learn specific skills. Whether you're a natural or have learned how to do it, you can always be better. From working with Owen over the last seven years he has taught me a lot more than I thought was possible to learn about performance and attitude.  In fact, it's annoying how he already knows the answer to all the questions he asks you! He's really taught me a lot. He can teach you." Karl Spain, Comedian

"The course was practical, enjoyable and most importantly useful. The techniques taught by Poll can be easily applied to raise impact in any speaking situation, and I am already putting them to good use. For those who need to achieve results as a speaker I recommend Voice Matters International" Paul O'Brien, Marketing Director – Johnson & Johnson
Once and for all take the first step to finally master your speaking, presenting and influence skills. Demystify the whole area of public speaking, and begin your journey to powerful and persuasive communication. We promise that you will be delighted with the course, and that is backed up by our Money Back Guarantee. Enrol today, you'll be glad you did!

Next course: 13th & 14th May
Limited places. Please book early.
COURSE FULL – RETURNS IN 2017 
Two Day Course Fee – €874.
This investment includes pre- & post-course interaction with the trainers, all handouts & course materials, am & pm refreshments and lunch. (In Ireland there is currently 0% VAT on training services.)
For More Information
Please call our office: +353 4548 2964
This course is always sold out ahead of time, and early booking is advised.
Your Expert Trainers

Poll Moussoulides is Ireland's leading Voice Coach and one of Europe's most sought after Personal Performance Specialists. His companies, Voice Coach and Voice Matters create and provide in-house training to organisations throughout Ireland, Europe, the United States and the Middle East with clients from the highest levels of the Broadcast, Music, Political and Corporate sectors.
Since 1991, Poll has trained numerous Journalists and Presenters in News, Sport, Current Affairs, and Lifestyle programs who have been seen and heard on RTE, TV3, BBC, TG4, Sky Sports and CNN. By adapting the principles of Actor training, Poll has created a practical and wholly attainable method for all to communicate with greater physical confidence and vocal expertise. Over the last 24 years he has been Voice Coach on plays in all of Ireland's major Theatres and many in the UK. He has coached hundreds of Actors, from absolute beginners to multi Oscar award winners, on over 55 Film and TV productions (Including Mia Farrow, Gabriel Byrne, Jon Voight, Whoopi Goldberg, Jared Leto, Robbie Coltrane, Cillian Murphy, Joss Stone, Roger Daltry, Kim Catrall, Pierce Brosnan, James Nesbitt, Martin Sheen, Anjelica Huston, Elijah Wood…) From 1986 – 1995 he was Head of Voice at the Gaiety School of Acting and for 5 years at the Drama Faculty in Trinity College Dublin. At the Irish Management Institute he regularly delivered vital components to communication and leadership courses from 1992-2008.
At Edinburgh Institute of Leadership and Management Practice, Poll was part of the team that devised and delivers the world's first experiential Masters Degree in Corporate Leadership. In 2010 he joined the team of experts on the High Performance Leadership program at IMD, Lausanne, Switzerland, and on the MBA program at Smurfit Business School, Dublin. In 2006 Poll founded the Irish Voice Association, and is a founding member of the Irish Film & Television Academy (ITFA). He has appeared as a Communications Consultant on many TV & Radio programs.

Owen Fitzpatrick is an inspiring, engaging and entertaining speaker. His approach is unique and he puts an emphasis on the importance of practical, simple and immediately useful skills and insights humorously delivered in a passionate way to enable people to empower themselves. Owen is known for his true command of language and his precise ability to use the right words in the right way to persuade and influence. His speeches are unique, informative and motivating and he is regularly hired as key note speaker for talks on topics such as Stress Management, Time Management, Motivation, Communication, Leadership and Performance. Owen has been invited to speak in over 25 countries and is fast becoming one of the most popular speakers on the international circuit and is hired regularly by top blue chip companies to share his expertise. He has also spoken at a number of universities and business schools including Trinity College Dublin, UCC, UCD, Michael Smurfit Business School and the Irish Management Institute.
Owen is a Psychologist, Psychotherapist and Hypnotherapist.  He became the youngest Licensed Master Trainer of NLP of all time when he was 23. Since then, he has worked with more than 10,000 people individually, with all sorts of issues from depression, panic attacks, stress, phobias, time management to performance issues. Nowadays, his focus is on speaking and training people in high performance, stress management and effective communication.
For three years Owen was the expert presenter of the primetime RTE show 'Not Enough Hours'. He has also appeared as an expert on confidence and communication on 'The Big Bite', 'Seoige', 'The Afternoon Show', 'Ask Anna', 'Karl Spain wants a Woman' and 'Morning AM'. He has also written several best selling books on Persuasion, Charisma and NLP which have been translated into 10 languages around the world.
<!- end .navigation -->