Ancient Wisdom for Contemporary Communication
Like many of their generation, my parents subscribed to the monthly publication 'Reader's Digest'. In the 1960's it sold 24 million copies each month and was available in over 13 languages. Full of articles, short stories, humorous anecdotes, word teasers, cartoons, advice and insights on every imaginable topic and advertising from around the world – it was a vital literary connection to what was happening on our planet.
When my brothers and I visit my parent's home – it's a great source of entertainment to look back on the hundreds of back issues, and marvel at prices of cars, historical events as they were written about at the time, and even how smoking was advertised as a healthy habit!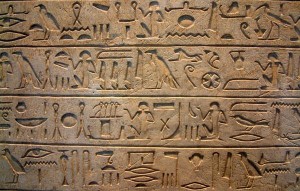 Recently, in the March 1964 edition, we discovered an article about achieving and maintaining a healthy, strong and versatile voice. I was delighted to read that much of the advice is mostly still appropriate and relevant today. Why wouldn't it be? They had bodies, brains and voices like us, and vocal communication was as important, if not more, than it is now. What really caught my eye in the article was a quotation found in an Egyptian tomb from 3,000 years ago which said "Make thyself a craftsman in speech for thereby thou shalt gain the upper hand".
Wow! When we read in recent research from Harvard Business School that the number one attribute that will lead you to the top of any profession, is the ability to speak passionately, persuasively and professionally, especially in public – it's clear that the public speaking wisdom available for hundreds and thousands of years, is impressively still valid today.
So I decided to go searching for some other not so well known gems from the far and recent past that give us timely advice for today. Here's a few that will be relevant for as long as we value speech to fulfil our lives:
Words are the voice of the heart.
Confucius (551-479 BC), Chinese philosopher
I know that I am intelligent, because I know that I know nothing.
Socrates  (c. 469 BC – 399 BC)
All speech is vain and empty unless it be accompanied by action.
Demosthenes (384 BC – 322 BC)
I have often regretted my speech, never my silence.
Xenocrates (396 BC – 314 BC)
The stroke of the whip maketh marks in the flesh: but the stroke of the tongue breaketh the bones. Many have fallen by the edge of the sword: but not so many as have fallen by the tongue.
Ecclesiasticus 28:17 (from King James Bible 1611) or Wisdom of Sirach (c 200-175 B.C)
Let thy speech be better than silence, or be silent.
Dionysius Of Halicarnassus (c 60 BC– c 4 BC)
Though thou speak'st truth, methink thou speak'st not well.
William Shakespeare (1564 – 1616)
It usually takes more than three weeks to prepare a good impromptu speech.
Mark Twain (1835 – 1910)
Be yourself – everyone else is taken
Oscar Wilde (1854 – 1900)
Words are, of course, the most powerful drug used by mankind.
Rudyard Kipling (1865 – 1936)
Think like a wise man, but communicate in the language of the people
W.B. Yeats (1865 – 1939)
Courage is what it takes to stand up and speak; courage is also what it takes to sit down and listen.
Winston Churchill (1874 – 1965)
Art Is the elimination of the unnecessary
Pablo Picasso (1881 – 1973)
There are always three speeches for every one you actually gave. The one you practiced, the one you gave, and the one you wish you gave."
Dale Carnegie (1888 – 1955)
Ever tried. Ever failed. No matter. Try Again. Fail again. Fail better.
Samuel Beckett (1906 – 1989)
The truth isn't the truth until people believe you, and they can't believe you if they don't know what you're saying, and they can't know what you're saying if they don't listen to you, and they won't listen to you if you're not interesting, and you won't be interesting unless you say things imaginatively, originally, freshly.
William Bernbach, (1911-1992)
© Poll Moussoulides

Do You Want To Use This Article In Your Newsletter Or Website?
You can, as long as you include the entire article, the copyright, the links and the complete text below with it:

Poll Moussoulides publishes his 'SPEAK' newsletter for trainers, consultants, coaches, teachers, corporate sales teams, small business owners … and all people who would like get to results whenever they speak. The newsletter is free and contains interviews, articles, exclusive discounts and priority information on courses and events. To join the global newsletter community of thousands, or to find out more, go to www.voicematters.com
www.voicecoach.ie
www.voicematters.com
www.tvpresentingireland.com
www.irishvoiceassociation.com